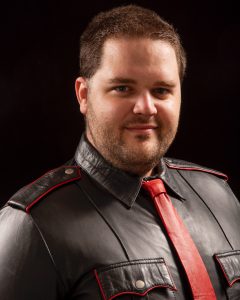 Board Member
Current Term: 2020
Additional Positions: LALC Cares Lifeline Manager
Titles Held: Mr. Sanctuary Leather 2018
Organizational Affiliations:
Los Angeles Band Of Brothers Board Member: Communications Officer
Southern California Mens Bondage Club: President
Bio:
Adam has been into leather for all of his adult life. He is a service person at heart he is assisting with the LALC Cares Lifeline.
He is also currently serving as the President of the SoCal Mens Bondage Club, He also holds a Board Member position for The Los Angeles Band Of Brothers as Communications Officer.
His Previous Title was Mr. Sanctuary Leather 2018.
Adam is also a Videographer & Photographer in the adult industry and enjoys it very much. His personal site is MrArchangelXXX.com