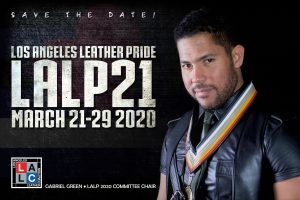 Hello everyone,
For those of you who don't know me, allow me to introduce myself. My name is Gabriel Green and I am the Committee Chair for the Los Angeles Leather Pride in 2020.
I am proud to be taking on the mantle of producing Los Angeles Leather Pride week. We have seen some great events and contests in the past and this year will be no exception!
There will be many exciting events that are going to be featured during this year's Los Angeles Leather Pride, including the return of LA LA Leather, The Assembly, Off Sunset Festival and more! While the Mr. Los Angeles Leather Contest will be the highlight of the week, there will be something for everyone to enjoy.
Our goal this year is to give everyone, locally, around the country and around the world who will be visiting us during the week, an exciting and unforgettable experience with fun and sexy events.
We want everyone to come together and celebrate who you are and what you're into in our amazingly beautiful and diverse LA community with what we have planned.
We look forward to seeing you on March 21st through the 29th in 2020 and can't wait to show you the fun and excitement this is in store for all of you with LALP21!
Sincerely,
Gabriel Green
LALP 2020 Committee Chair
#LALeather #LALeatherPride #LALP #LALP21 #LALP2020